Thermaltake Water 3.0 360 ARGB Sync Aio Liquid Cpu Cooler
P/N                          :CL-W234-PL12SW-A
WEIGHT                  :2250 g
Motor Speed            : 3600 RPM
Rated Voltage          : 12 V & 5V
Power Input             : 12V – 3.9 W , 5V – 1.06 W
WATER BLOCK      :Material: Copper
Dimension               : 120 x 120 x 25 mm
Out Of Stock.
| | |
| --- | --- |
| Radiator Size | |
| COOLING CATEGORY | |
P/N
CL-W234-PL12SW-A
WEIGHT
2250 g
PUMP
Motor Speed: 3600 RPM
Rated Voltage: 12 V & 5V
Power Input: 12V – 3.9 W , 5V – 1.06 W
WATER BLOCK
Material: Copper
FAN
Dimension: 120 x 120 x 25 mm
Speed: PWM 500~1500 R.P.M (2510-4PIN)
Noise Level: 25.8 dB-A
Power Input: 12V- 1.44 W, 5V – 1.6W (one fan)
Rated Voltage: 12 V & 5V
Max. Air Flow: 56.45 CFM
Max. Pressure: 1.59 mm-H2O
LED Control: ARGB controller or 5V addressable RGB header on motherboard
TUBE
Length: 400 mm
Material: Rubber
RADIATOR
Dimension: 394 x 120 x 27 mm
COMPATIBILITY
Intel
LGA 2066/2011-3/2011/1700/1200/1156/1155/1151/1150
AMD
TR4/AM4/FM2/FM1/AM3+/AM3/AM2+/AM2
*AIO Cooler bracket adapter comes in the AMD Threadripper CPU box.
WATER 3.0 ARGB 360
THERMALTAKE WATER 3.0 360 ARGB SYNC AIO LIQUID CPU Cooler
The Water 3.0 ARGB Sync CPU cooler, is an all-in-one cooling solution that is available in either 120mm, 240mm or 360mm variants. Able to provide an alternative cooling solution to standard air cooling, the Water 3.0 is a perfect fit for achieving higher performance in any system.
It's also a fantastic choice for those that can't get enough RGB lighting in their build; thanks to the included Pure ARGB 5 volt radiator fans, switching between different lighting effects and colour options has never looked this good.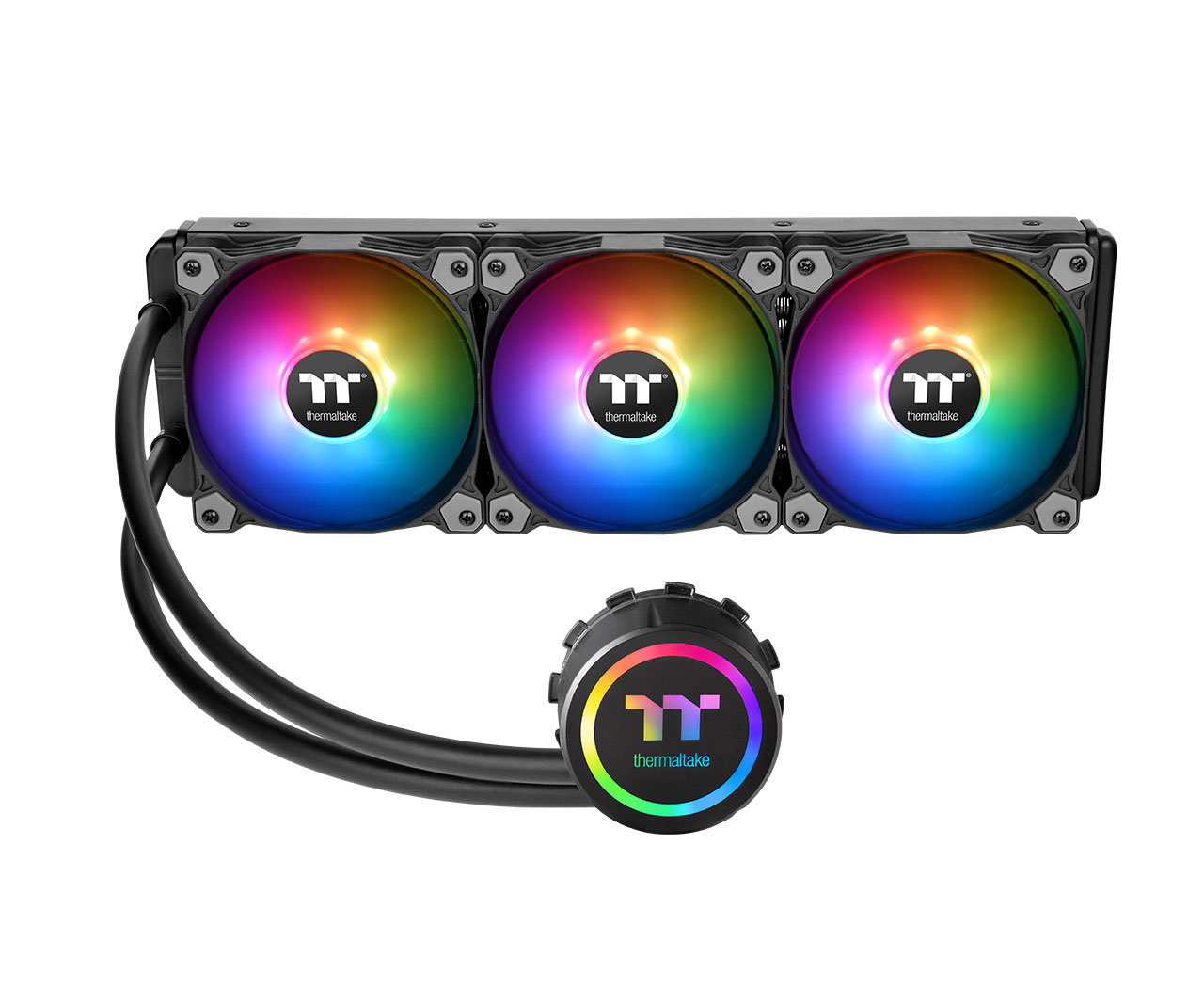 LOWER HEAT, HIGHER PERFORMANCE
KEEPING COOL UNDER PRESSURE
When it comes to optimizing PC performance, keeping your components cool should always be a priority. A CPU is the beating heart of any gaming system, and is always going to require the best cooling hardware in order to help support it. By utilizing an all-in-one liquid cooler such as the Water 3.0, the truest potential of your CPU can be fully realized.
Over-clocking is something that can only be achieved through a liquid cooling solution, allowing your system to achieve even higher performance targets. You can also rest easy knowing that when you use the Water 3.0, it will help in eliminating any risks of damage to your hardware that can sometimes cause due to inefficient cooling be applied from stock cooling methods.
HASSLE-FREE INSTALLATION
Implementing a new cooler is easier than you think. The Water 3.0 is both simple and straightforward when it comes to implementing it into your system. A lot of the work is already done for you, with thermal paste already pre-applied on the base of the waterblock to allow for stress free placement.
When it comes to a simple and efficient water cooling solution, the Water 3.0 is by far the easiest and most user friendly. No maintenance required or coolant to periodically top up, unlike traditional cooling setups. Once you've integrated the Water 3.0 into your system, you can set it and forget it.
TT WATER 3.0 360
JUST BE COOL
Making sure your components always receive the right amount of cooling, should always be a priority when it comes to deciding on which case to house your system. Which is why we've endeavored to give you plenty of cooling options in the View 27.
Whether you're just starting out and want to play it safe by just utilising fan cooling, or you're a bit more adventurous and want to try your hand at a liquid cooling loop; the View 27 offers plenty of space for any and all of these cooling solutions and more.


EVERYTHING UNDER YOUR CONTROL
Speaking of addressable LED fans, you'll have total freedom when it comes to personalisation. With over 16.8 million colours to choose from, the only limitation is your own imagination. Through either software or hardware controls, you can switch between different lighting modes for some truly dazzling effects, to help draw even more attention to your system.
As an added benefit, any compatible motherboard software can be synced with the included ARGB fans, allowing for consistent colours across all of your components. If you prefer, you can also use the included fan controller for easy manual adjustments and tweaks. (Only supports motherboard with 5V header)
TT WATER 3.0 360


NEED AN ASSIST?
Sometimes, it helps to have someone who can offer a helping hand if the worst should happen. At Thermaltake, we're dedicated in providing quality products and even higher quality customer service.
With the Water 3.0, we've endeavoured to offer a full three years product warranty in order to give you the confidence when deciding to purchase with us. By having a dedicated tech support team based in Australia, we understand how to properly serve our local customers and are able to deliver timely support and assistance.
size comparison:
WATER 3.0 ARGB 120
TT WATER 3.0 360
WATER 3.0 ARGB 240
WATER 3.0 ARGB 360
Only logged in customers who have purchased this product may leave a review.
Brand
THERMALTAKE
Thermaltake is a Taiwanese computer hardware company that was founded in 1999. It is known for its wide range of products, including computer cases, power supplies, cooling systems, and gaming accessories. Thermaltake products are typically known for their high quality and innovative design.
a popular brand among gamers and enthusiasts, but it also offers products for mainstream users. The company's products are available in over 100 countries around the world.
Some of Thermaltake's most popular products include:
Cases: The Core P3 TG Pro, View 51 TG ARGB, and Level 20 GT ARGB RGB Plus are all popular cases from Thermaltake. These cases are known for their unique design and features, such as tempered glass panels, RGB lighting, and support for custom liquid cooling.
Power supplies: The Toughpower GF3 1650W Gold and Toughpower iRGB PLUS 850W Gold are both high-quality power supplies from Thermaltake. These power supplies are certified to 80+ Gold efficiency standards and offer a variety of features, such as modular cabling, overvoltage protection, and short-circuit protection.
Cooling systems: The Pacific SW1 Plus CPU Water Block and Pacific SF Fittings are both popular custom liquid cooling components from Thermaltake. These components are known for their high quality and performance.
Gaming accessories: The Level 20 Gaming Mouse and Level 20 Gaming Keyboard are both popular gaming accessories from Thermaltake. These accessories are known for their durable design and features such as RGB lighting and programmable buttons.
Thermaltake is a leading brand in the computer hardware industry. The company offers a wide range of high-quality products that are popular among gamers, enthusiasts, and mainstream users alike.
Related products