Because comfort and performance shouldn't be mutually exclusive. Meet the mouse and keyboard combo that combines the best of both worlds. A full-size keyboard is fully loaded with a LCD display, number pad, and palm rest, so you can work at peak efficiency and comfort. The contoured mouse is sculpted for the shape of your right hand, and features programmable buttons, hyper-fast scrolling, and precision tracking that works on most surfaces.
TYPE AT MAX COMFORT:
The full-sized keyboard features a numpad for better efficiency, and a cushioned palm rest for maximum comfort. Concave keys position your fingers properly, while softly rounded edges invite your fingertips to glide quietly from key to key, hour after hour.
FULL-SIZED COMFORTABLE MOUSE:
The included full-size mouse is built for the long haul thanks to its sculpted shape, right-handed design, and rubber side-grips for added comfort. The shape follows the natural curve of your hand, so you can stay productive longer whether you're in the office or at home.
HYPER-FAST SCROLLING:
The mouse features precision tracking for accurate cursor control on most surfaces. Plus, the dual-mode scrolling lets you switch between speed and precision, so you can fly through long documents or go line-by-line, at the touch of a button. Use Logitech Options to boost your productivity by customizing the extra thumb buttons and tilt wheel.
LCD DASHBOARD:
An LCD dashboard of the keyboard gives you at-a-glance icon status of your battery, Caps Lock, Scroll Lock and Num Lock, so you won't skip a beat while typing.
UNIFYING WIRELESS BY LOGITECH:
Work wirelessly from up to 10 meters Wireless range may vary due to environmental and computing conditions. away with a strong, reliable 2.4 GHz USB receiver connection for virtually no delays or dropouts. Logitech Unifying™ technology lets you pair as many as six compatible peripherals to a single tiny Unifying receiver.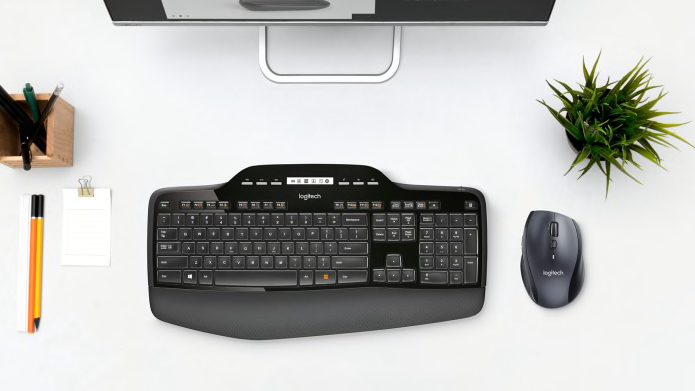 EXTRA LONG BATTERY LIFE:
This combo is built with the same high quality standards that have made Logitech the global leader for mice and keyboards. Durable and reliable, this combo is designed with ultra efficient battery consumption so that you can work up to three years3Keyboard and mouse battery life may vary based on user and computing conditions with the included batteries. The keyboard is ready to withstand on-the-job use and mishaps thanks to the spill-resistant design.
SPECS & DETAILS:
Keyboard

Height: 9.53 in (242 mm)
Width: 18.11 in (460 mm)
Depth: 1.22 in (31 mm)
Weight: 31.92 oz (905 g) (with batteries)

Mouse

Height: 4.29 in (109 mm)
Width: 2.80 in (71 mm)
Depth: 1.65 in (42 mm)
Weight: 4.76 oz (135 g)

Logitech Unifying receiver

Height: 0.57 in (14.4 mm)
Width: 0.74 in (18.7 mm)
Depth: 0.24 in (6.1 mm)
Weight: 0.06 oz (1.8 g)

What you need

An available USB port
Windows ® 7, 8, 10 or later

Wireless range: 393.7 in (10m)

Keyboard

Spill-resistant design
LCD Display
Palm Rest
10-Key Number pad
Key type: deep profile
On/Off power switch
2 AA batteries(Alkaline Battery)
Battery life: 36 months

Mouse

Sensor technology: Precision Optical tracking
Number of buttons: 5
Scrolling: Hyper-fast
Tilt Wheel: Yes with middle click
Connect/Power: On/Off power button
2 AA batteries(Alkaline Battery)
Battery life: 36 months
Keyboard
Mouse
USB 2.4 GHz Unifying receiver
4 AA alkaline batteries
User documentation

2-year Limited hardware warrant
Part Number 920-002419
Typing Feeling Deep-profile keys
Connectivity USB Wireless
Easy-Switch Technology (Multi-device pairing) No
Palm Rest for added comfort Yes
Compatibility (Platform) Windows
dimensions 460 x 31 x 242 mm
Mouse Accessorise
Sensor resolution (DPI) 1000
Sensor technology Optical
Dimensions 71 x 42 x 109 mm