Samsung MZ-77E1T0/EU 870 Evo 1Tb Internal Solid State Drive SSD
THE SSD ALL-STAR: The latest 870 EVO has indisputable performance, reliability and compatibility built upon Samsung's pioneering technology
EXCELLENCE IN PERFORMANCE: Enjoy professional level SSD performance with 870 EVO, which maximizes the SATA interface limit to 560/530 MB/s sequential speeds, accelerates write speeds and maintains long term high performance with a larger variable buffer
INDUSTRY DEFINING RELIABILITY: Meet the demands of every task from everyday computing to 8K video processing, with up to 2,400 TBW
MORE COMPATIBLE THAN EVER: 870 EVO has been compatibility tested for major host systems and applications, including chipsets, motherboards, NAS, and video recording devices
UPGRADE WITH EASE: Simply plug 870 EVO into the standard 2.5 inch SATA form factor on your desktop PC or laptop and let the renewed migration software takes care of the rest
Out Of Stock.
| | |
| --- | --- |
| MODEL | |
| CAPACITY | |
| STORAGE TYPE | |
| Memory Component | |
| Transfer Rate | |
| WRITE | |
| DRAM CACHE | |
| Part Number | |
| Warranty | |
Product Type

870 EVO SATA 2.5″ SSD 1TB

Family Line

Capacity

Interface

Compatibility

Windows10/Windows 8/Windows 7/Windows Server 2003 (32 bit and 64 bit), Vista (SP1 and above), XP (SP2 and above), MAC OSX and Linux

Dimension (WxHxD)

Weight

Speed

Read/write speeds of up to 560/530 MB/s

Encryption

Class 0 (AES 256) TCG/Opal v2.0, MS eDrive (IEEE1667)

Interface

SATA 6 Gb/s Interface, compatible with SATA 3 Gb/s & SATA 1.5 Gb/s interface

Usage Application

Capacity

1,000 GB (1 GB=1 Billion byte by IDEMA) * Actual usable capacity may be less (due to formatting, partitioning, operating system, applications or otherwise)

Sequential Read Speed

Up to 560 MB/s Sequential Read * Performance may vary based on system hardware & configuration

Sequential Write Speed

Up to 530 MB/s Sequential Write * Performance may vary based on system hardware & configuration ** Measured with Intelligent TurboWrite technology being activated

Cache Memory

Samsung 1 GB Low Power DDR4 SDRAM

Trim Support

S.M.A.R.T. Support

GC (Garbage Collection)

Auto Garbage Collection Algorithm

WWN Support

World Wide Name supported

Device Sleep Mode Support

Internal Storage

Average Power Consumption (system level)

Average: 2.5 W *Maximum: 4.0 W (Burst mode)* Actual power consumption may vary depending on system hardware & configuration

Power consumption (Idle)

Max. 30 mW * Actual power consumption may vary depending on system hardware & configuration

Reliability (MTBF)

1.5 Million Hours Reliability (MTBF)

Shock

1,500 G & 0.5 ms (Half sine)

Product
The SSD all-star
The perfect choice for creators, IT professionals or everyday users, the latest 870 EVO has indisputable performance, reliability and compatibility built upon Samsung's pioneering technology.
Excellence in performance
Everyday users can now enjoy professional-level SSD performance with the 870 EVO, which maximizes the SATA interface limit to 560/530 MB/s sequential speeds,* accelerates write speeds and maintains long-term high performance with a larger variable buffer that lets the SSD work faster, longer.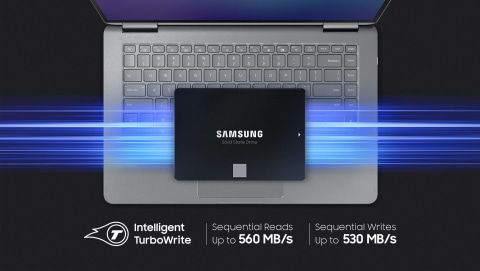 Industry-defining reliability
Meet the demands of each task. From everyday computing to 8K video processing — with up to 600 TBW* under a 5-year limited warranty, plus a stable host experience, low lag with the 6th generation VNAND, and steady performance when multi-tasking with the powerful MKX controller.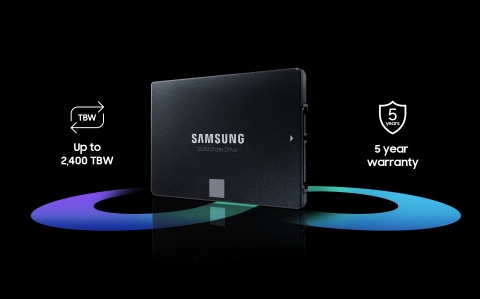 More compatible than ever
The 870 EVO has been compatibility tested* for major host systems and applications, including chipsets, motherboards, NAS, and video recording devices.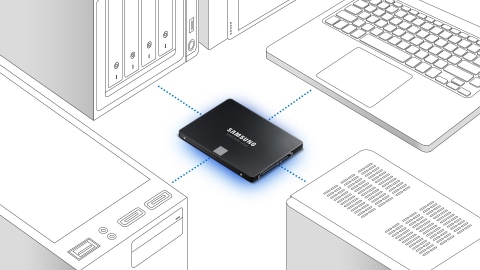 Upgrade with ease
Using the 870 EVO SSD is as simple as plugging it into the standard 2.5-inch SATA form factor on your desktop PC or laptop — the renewed migration software takes care of the rest.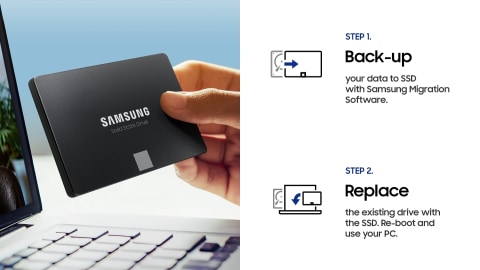 Samsung Magician software
Make your drive work smoothly with enhanced Samsung Magician 6 software* that helps you easily manage your drive, keep up with the latest updates, monitor the drive's health and status, or even enhance its performance.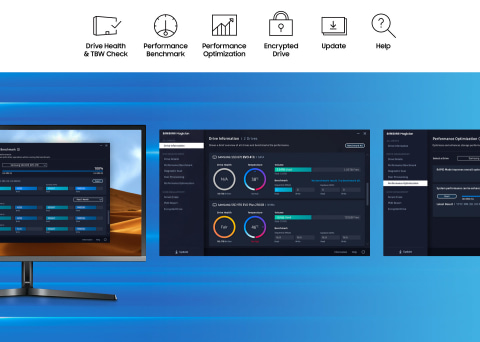 Samsung MZ-77E1T0/EU 870 Evo 1Tb Internal Soild State Drive
Only logged in customers who have purchased this product may leave a review.
Brand
SAMSUNG
Samsung is a South Korean multinational electronics corporation headquartered in Town, Seoul. It is one of the world's largest producers of consumer electronics, including semiconductors, telecommunications equipment, home appliances, and digital media devices. is also a major player in the renewable energy and construction industries.
Samsung was founded in 1938 by Lee Byung-chul as a trading company. The company expanded into electronics in the 1960s and began to produce semiconductors in the 1970s. became a major global electronics player in the 1980s and 1990s, and it is now one of the world's leading technology companies.
products are known for their high quality and innovative design. The company's products are popular among consumers and businesses alike. Some of Samsung's most popular products include:
Smartphones: is the world's largest smartphone manufacturer. The company's Galaxy smartphones are known for their cutting-edge features and stylish design.
TVs: is also the world's largest TV manufacturer. The company's QLED and Neo QLED TVs offer stunning image quality and a variety of smart features.
Home appliances: offers a wide range of home appliances, including refrigerators, washing machines, dishwashers, and ovens. The company's appliances are known for their energy efficiency and innovative features.
Semiconductors: Samsung is one of the world's leading semiconductor manufacturers. The company produces a variety of semiconductors, including DRAM, NAND flash, and system-on-a-chip (SoC) processors.
Samsung is a global leader in the technology industry. The company is known for its high-quality products, innovative design, and commitment to customer satisfaction.