Xpg Lancer Rgb DDR5 5200Mhz 32Gb (2X16Gb ) Desktop Memory Kit
Next-Gen DDR5 with 5200MT/s frequencies CL38-38-38

DDR5 ram offers up to double the capacity compares to DDR4

On-die ECC (Error Correcting Code) is used to provide better computer stability and reliability

DDR5 ram offers lower power consumption than the previous generations

DDR5 ram is only compatible with DDR5 supported motherboards and CPU. It is not compatible with DDR4 slots.

This RAM is compatible with Intel XMP 3.0.
Out Of Stock.
SKU:

4711085936776
Category: RAM
Tags: Brand-specific RAM (e.g., Computer memory, CORSAIR, CRUCIAL, DDR5 RAM, Desktop RAM, Gaming RAM, KINGSTON, Memory, Memory capacity, Memory kits, Memory latency, Overclocking RAM, Ram, RAM compatibility, RAM frequency, RAM modules, RAM upgrades, Speed (RAM), Workstation RAM, XPG, XPG Lancer, XPG Lancer RGB, XPG Lancer RGB DDR5, XPG Lancer RGB DDR5 5200MHz, XPG Lancer RGB DDR5 5200MHz 32GB (2x16GB ), اسعار الرامات, اسعار الرامات في مصر, رامات 2في16 جيجا ddr5
| | |
| --- | --- |
| RAM CAPACITY | |
| Memory Speed | |
| Technology | |
| RAM TYPE | |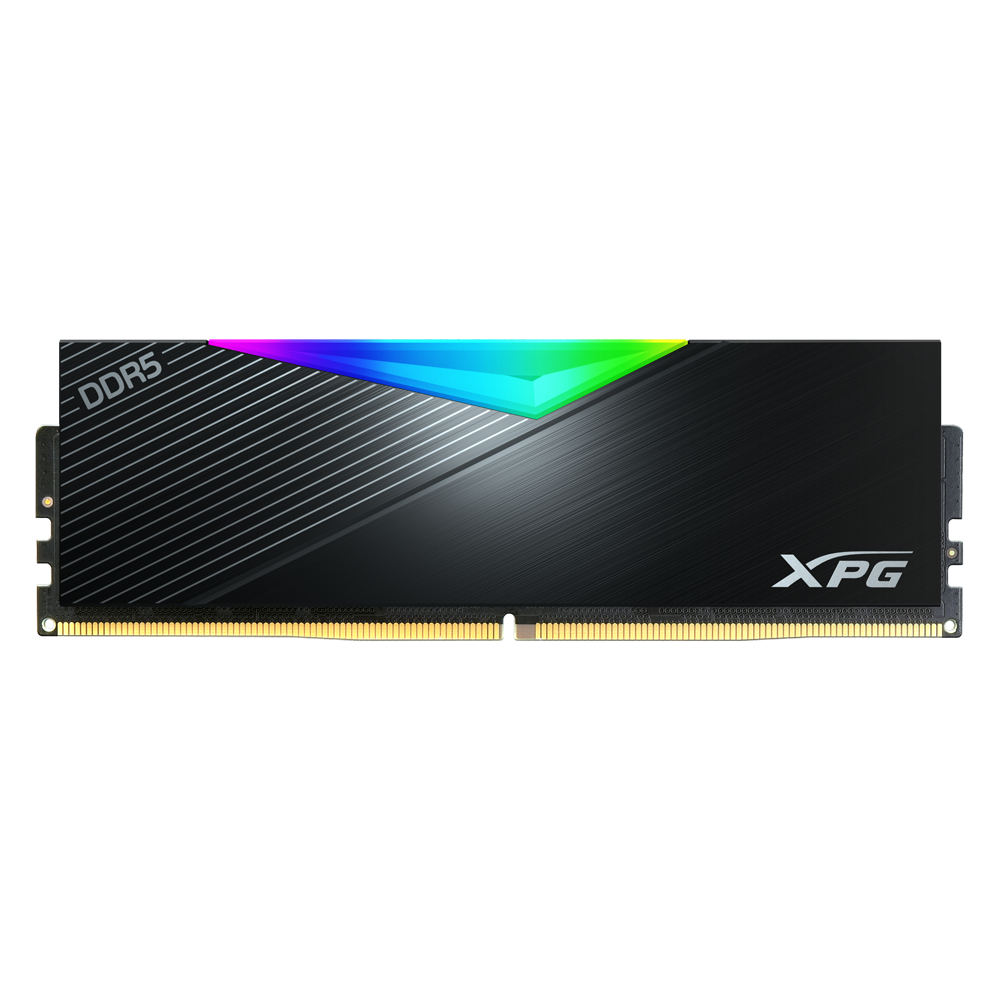 Memory Type
DDR5
Speeds
5200, 5600, 6000, 6400, 7200MT/s
Operating Voltage
1.25V-1.4V
Operating Temperature
0°C to 85°C
Dimensions (L x W x H)
133.35 x 40 x 8mm
—-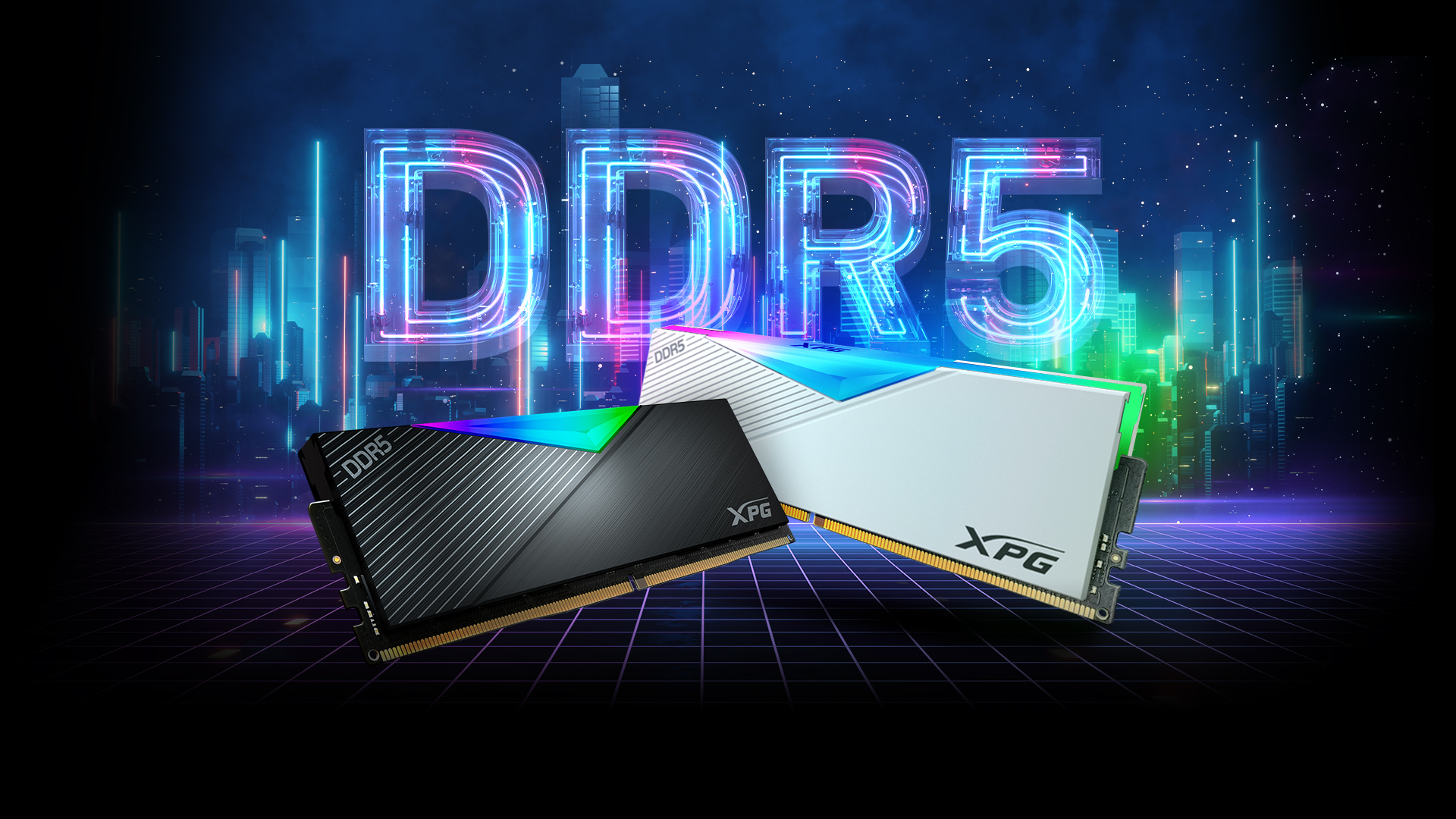 LANCER RGB DDR5
UP YOUR GAME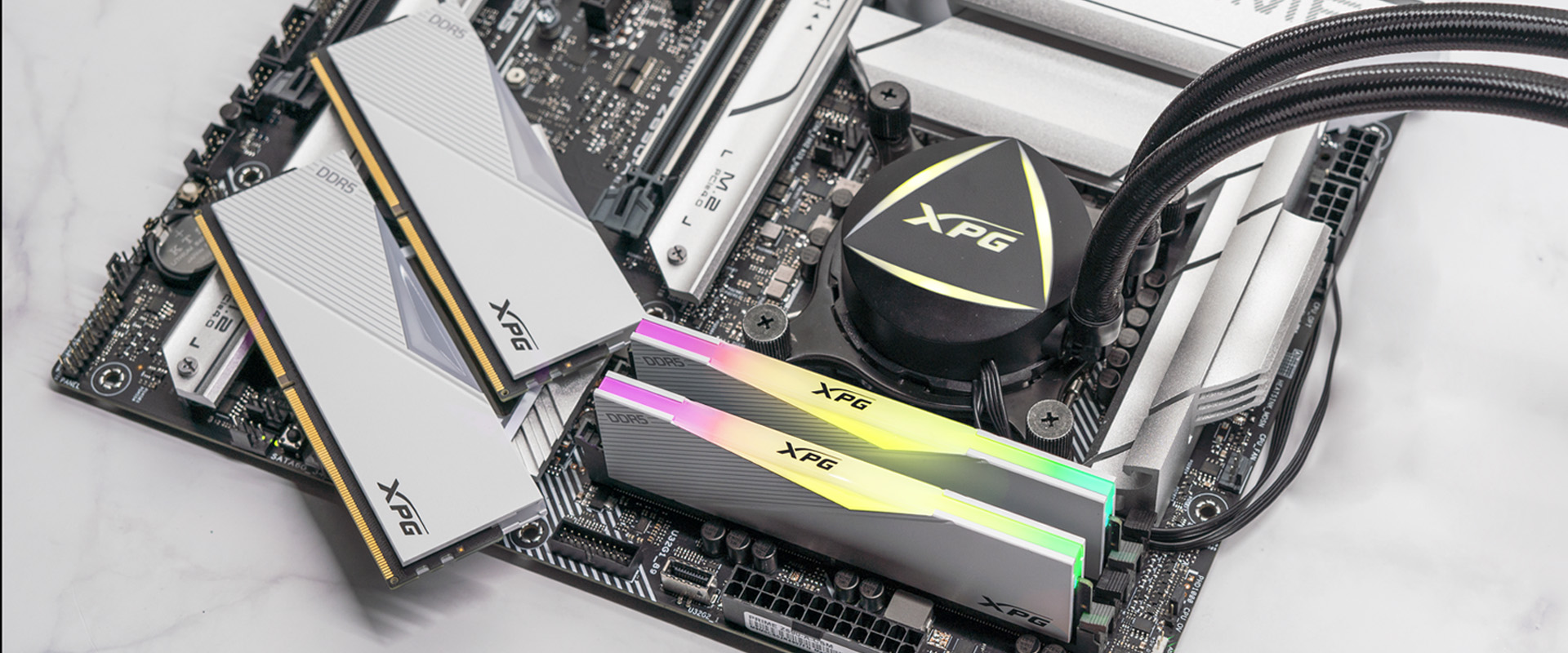 Distinctly Blizzard White
The LANCER RGB DDR5 also comes in Blizzard White for those looking to create a distinctly, all-white PC build.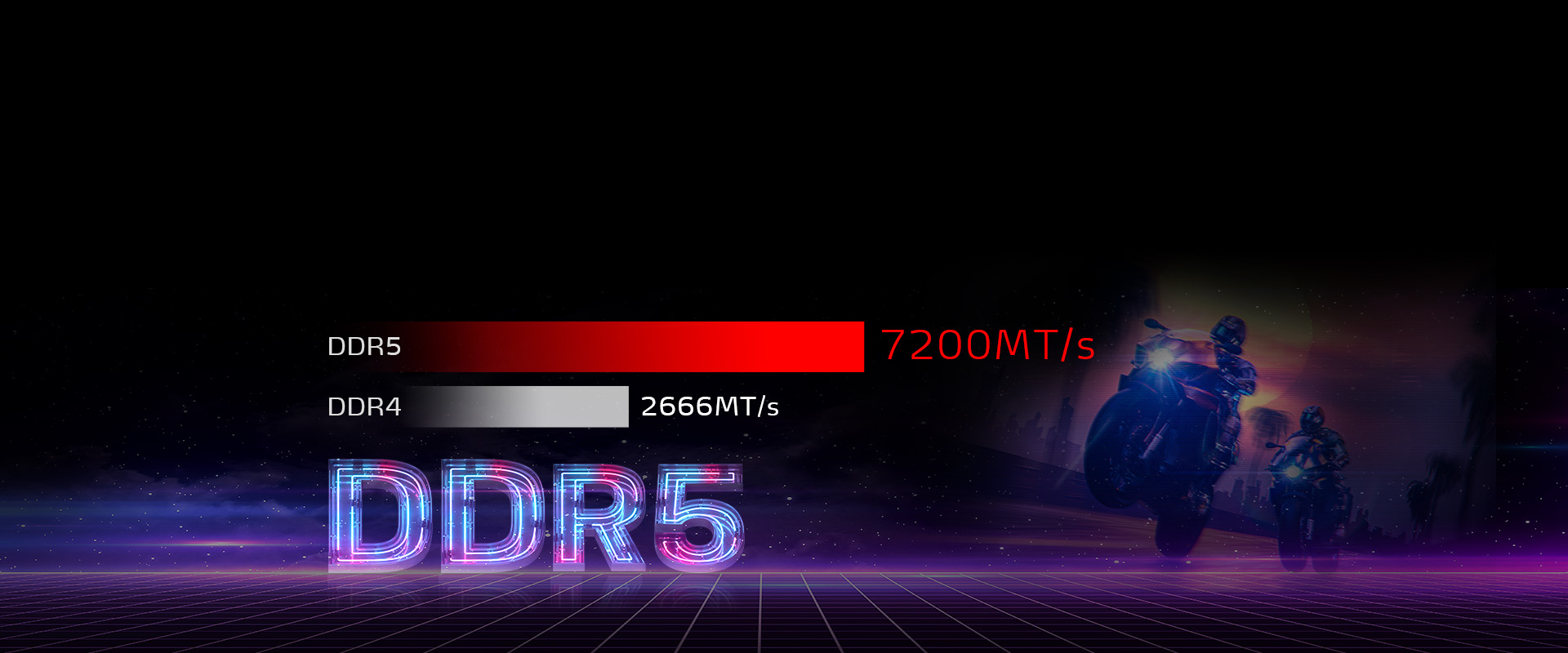 A New Speed ​​Benchmark in Gaming Memory
The XPG LANCER ushers in the DDR5 era for gaming memory. Reaching frequencies of up to 7200 MT/s, It will give you a major performance boost for gaming and overclocking.
RGB Your Way
Set the RGB lighting the way you want it. Choose from different effects (static, breathing, and comet) or sync the lights with your favorite jams via Music Mode. All this can be done through RGB control software from all the major motherboard brands.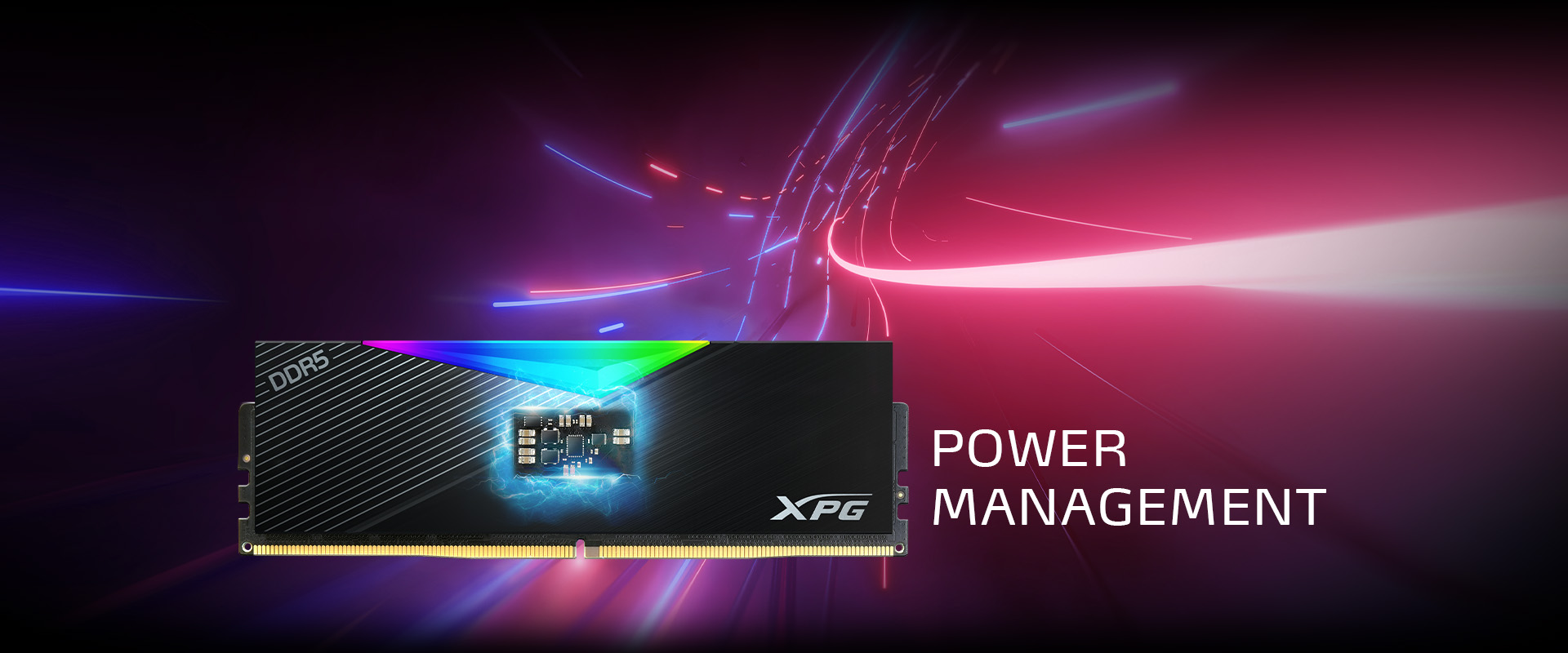 Enhanced Power Management
The XPG LANCER DDR5 features a built-in Power Management IC (PMIC) that enhance power supply stability. It's lower operating voltage also make LANCER more power-efficient than DDR4.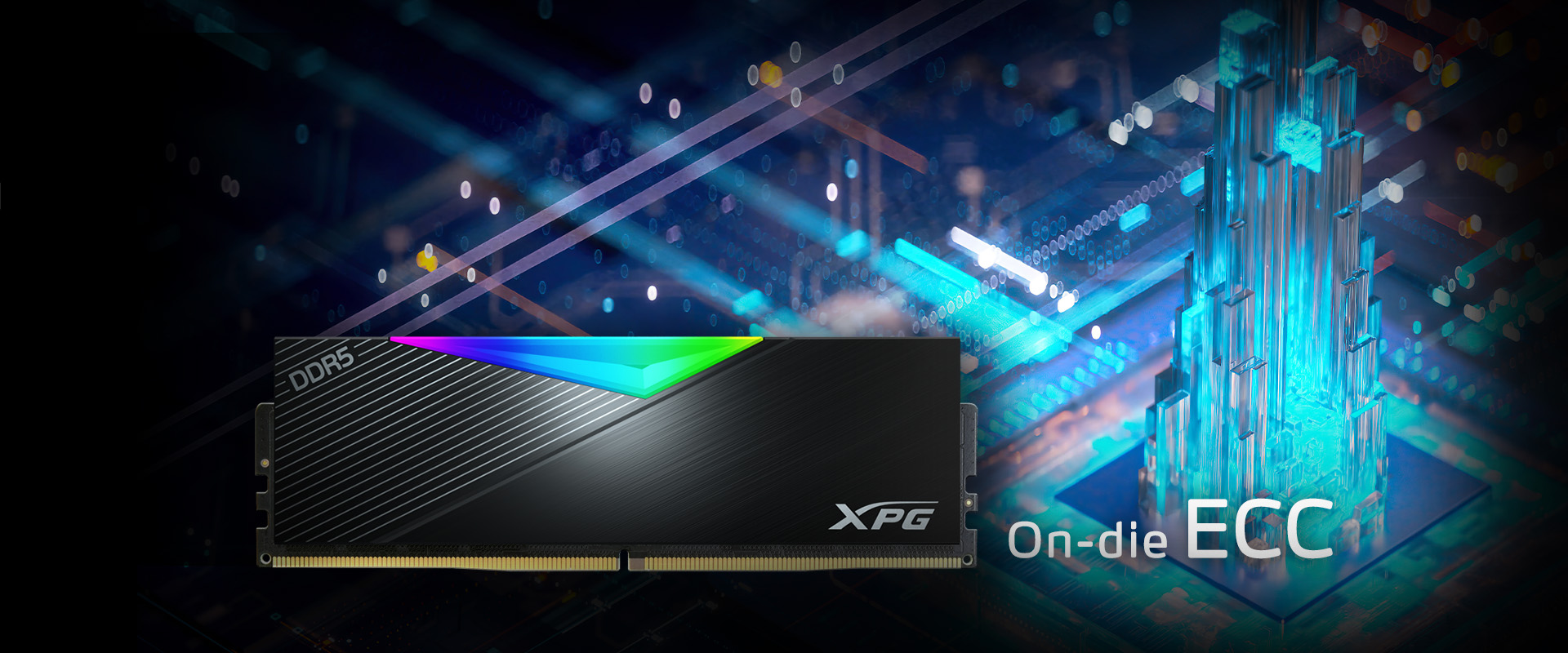 Stability and Reliability
With On-die error correcting code (ECC) this module can correct errors in real-time to provide increased stability and reliability.
Made with High-Quality Materials
High-quality ICs and PCBs ensure uncompromised performance and reliable overclocking, ideal for discerning gamers and overclockers.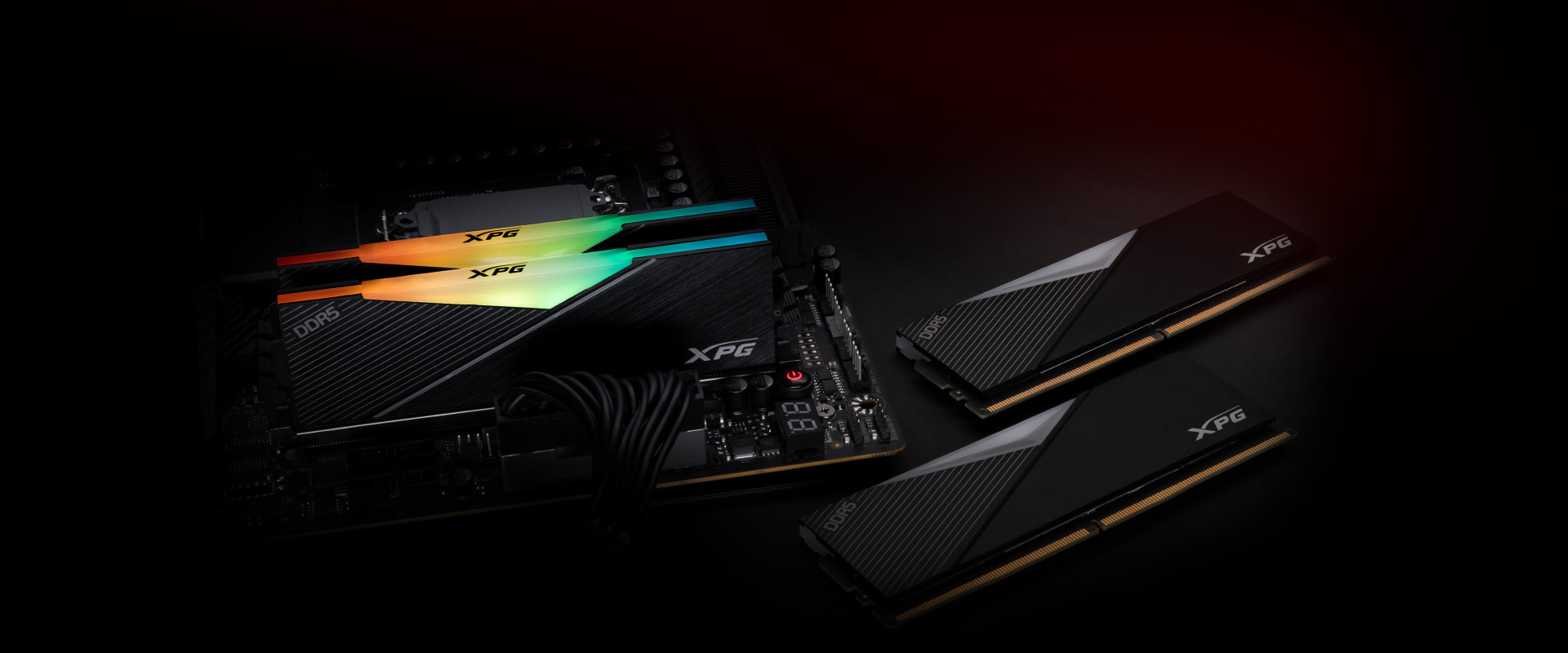 AMD EXPO
Support for AMD EXPO (EXtended Profiles for Overclocking) and compatibility with the latest platforms for reliability and stability.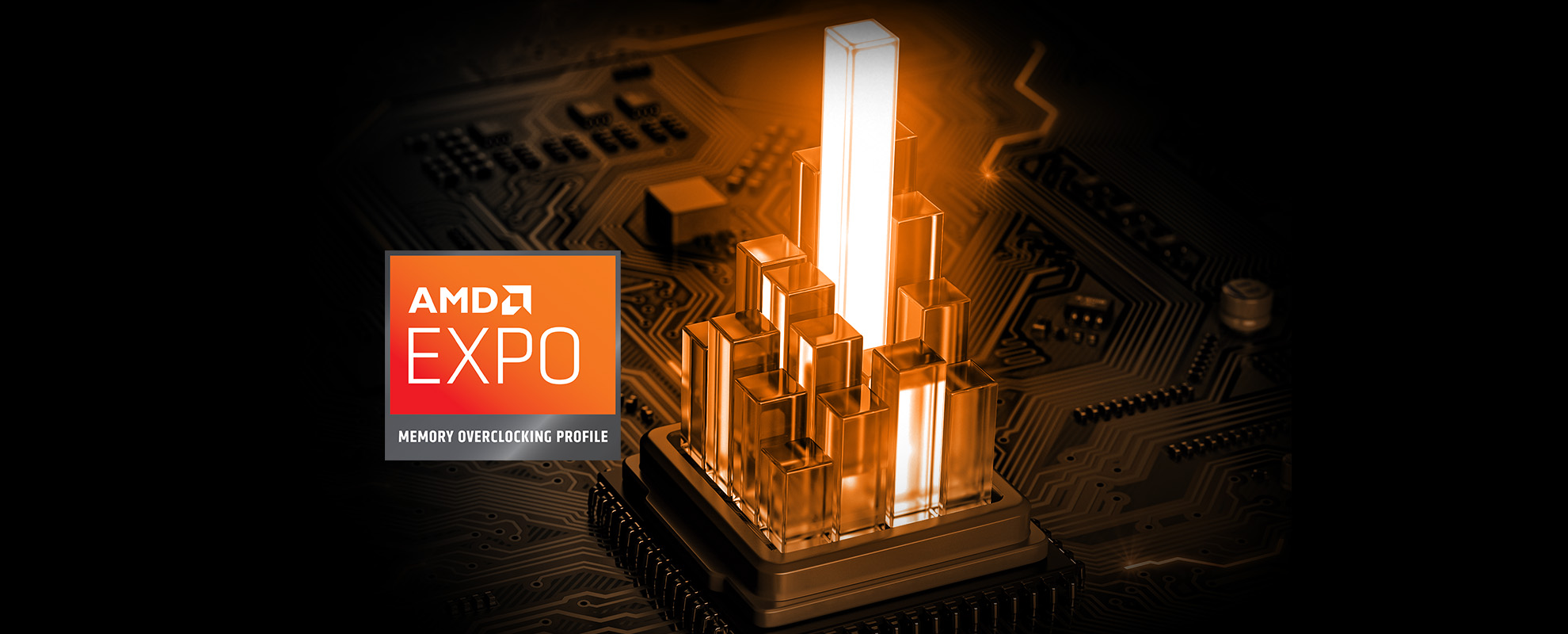 Overclocking Made Easy
With support for Intel XMP 3.0, get overclocking easily without the need to hassle with BIOS settings. There is no need to repeatedly adjust and fine-tune overclocking parameters.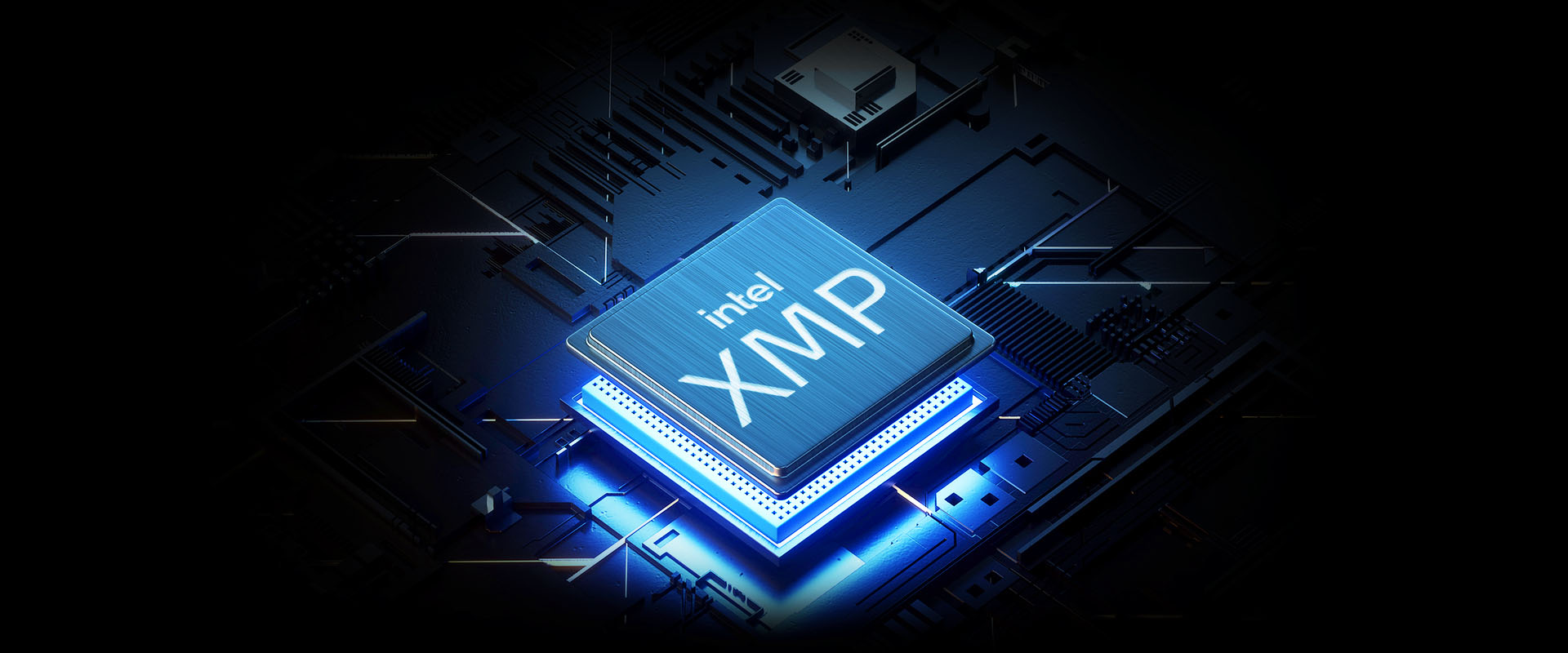 QuikTips: DDR5 vs DDR4 – Appearance
DDR5 U-DIMM modules have the same dimensions and pin count as DDR4 modules. The most obvious difference is the position of the fool-proof notch. Also, DDR5 integrates I/O resistors with CMD/ADD resistors. Also, the appearance of DDR5 modules are cleaner than DDR4. In addition, you can see a PMIC in the center.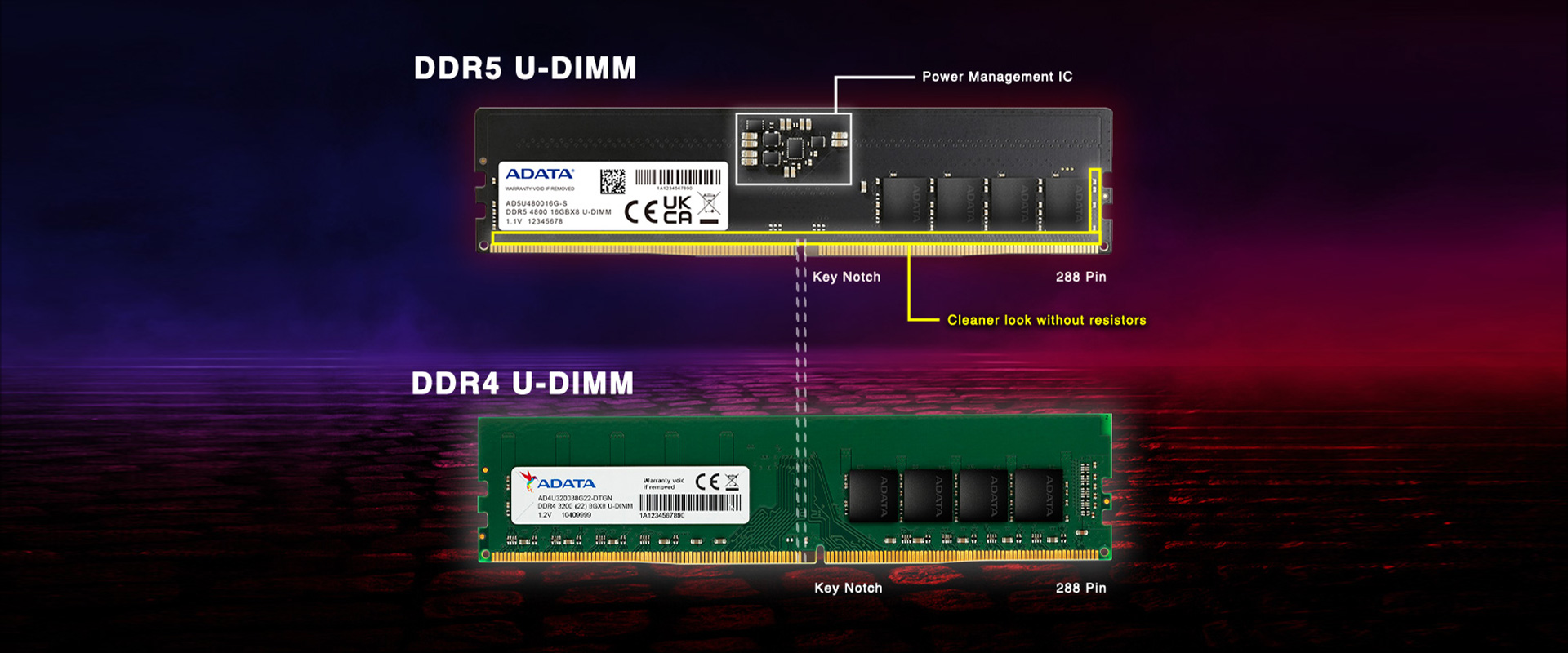 QuikTips: DDR5 vs DDR4 – Chip Architecture
DDR5 modules provide two times more capacity than DDR4 by packing in more banks and bank groups. In addition, Burst Length and Prefetch are also doubled. And to ensure data integrity, they feature error correcting code (ECC) technology.

QuikTips: DDR5 vs DDR4 – Performance
The biggest change is that bandwidth and frequency are significantly higher. The ADATA DDR5 memory modules deliver frequencies of up to 4800MT/s and feature bandwidth of 38.4GB/s, which is 50% higher than the DDR4-3200. The maximum frequency is increased 1.63 times compared to DDR4.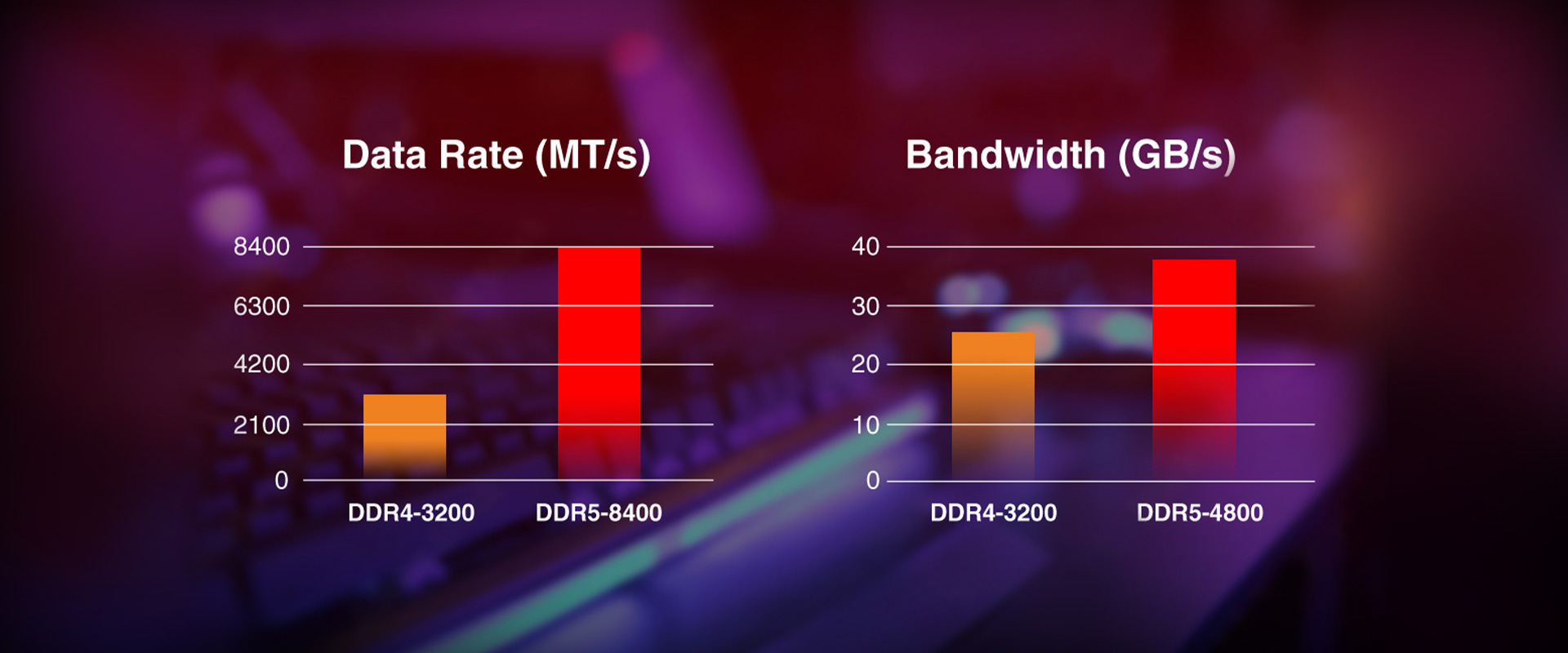 QuikTips: DDR5 vs DDR4 – Comparison Table
This specification comparison table shows the advantages of DDR5.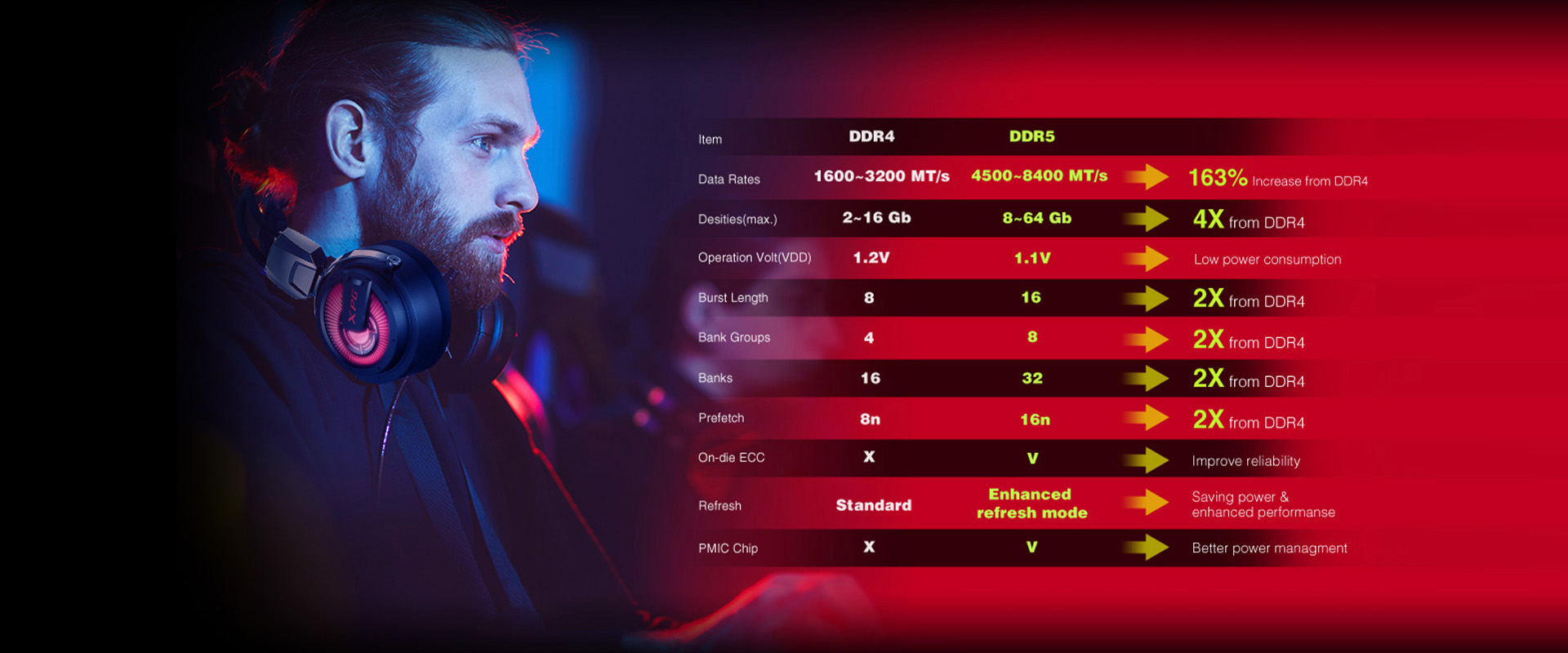 Only logged in customers who have purchased this product may leave a review.
Brand
XPG
XPG is a premium gaming brand from Adata, a leading global memory manufacturer. XPG offers a wide range of products for gamers and users who value performance and outstanding design. products are known for their quality, performance, and innovation.
Popular XPG products include:
DIMM memory: DIMM memory offers reliable performance and high speeds for gamers and users who want the best possible performance.
SSD memory: SSD memory delivers faster data access speeds and load times for gamers and users who want fast performance.
graphics cards: graphics cards provide increased graphics performance for gamers who want a more realistic gaming experience.
PC components: PC components offer modern design and excellent performance for gamers and users who want to build the perfect PC system.
accessories: accessories offer a distinctive design and useful features for gamers and users who want to customize the style and performance of their system.
XPG is committed to providing high-quality and innovative products to customers around the world. The company continues to invest in research and development to bring new technologies to market and meet the needs of its customers.
XPG is a great choice for gamers and users who want the best possible performance and style. XPG products are also backed by a strong warranty and customer support.
Related products